Pay-for-performance is a compensation model set by the employer. This payment structure is often utilized as an incentive. Incentivizing with performance-based pay is an effective tool to reach revenue goals, company growth metrics, and attract and maintain high-performing employees, although there are important considerations before implementing that can make or break its success.
How does pay-for-performance work?
Ultimately, an employer defines a pay-for-performance model. It is typical to define an employee goal, metric or objective and formulate a compensation plan based on both an employee's abilities to meet the goal combined with the company's overarching revenue and growth goals.
Two types of commonly implemented pay-for-performance plans includes bonuses and merit increases. However pay-for-performance depends on both the type of industry and company you are working within.
The following table, adapted from George Milkovich and Alexandra Wilgdor evaluation on performance pay in the National Academy Press, summarizes the four intersecting categories pay-for-performance falls under.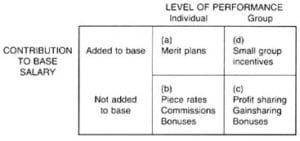 Individual plans
Individual pay-for-performance plans are just as they sound – for individual employees. These can be added to a base salary or allocated as a spot bonus or total rewards beyond the base compensation. Developing individual payment plans can support a more nuanced approach depending on unique roles.
Merit increases
Allocation: Added to base pay
Merit increases are most seen in large, private-sector companies, though not exclusively. These plans allow direct supervisors to allocate annual pay increases according to an employee's salary grade, job title or position, and individual performance appraisal rating. The appraisal rating is company dependent, but usually is qualitative and broad in nature. For example, it may scale from top performers, to satisfactory, to unsatisfactory.
Because the qualifications of merit pay increases are seen as broadly reasonable and consistent, it is seen as a lower-frictional way to incentivize performance. However, because merit pay increases are typically low in each increase period, it is recommended that managers communicate the long-term positive impact to salary they can have.
Piece rates
Allocation: Separate from base pay
Piece rates are payment based on the number of pieces produced, and not the length of hours worked. The immediate benefit of this system for employers is the ability to forecast payroll. For employees, this provides the ability to work atypical hours, especially if the employee produces products quickly. Piece rates are typical for the construction industry. However, there are certain precautions when it comes to piece rate structures. Piece rate may incentivize employees to work for quantity over quality, creating potential risks to the job being done.
There is also a legal component to piece rates. In recent years the U.S. Department of Labor has been monitoring piece rate payments are taken care of through minimum wage requirements and overtime payment. It is highly advisable for any manager looking to pay a piece rate to invest time into understanding state laws and closely record all payments made to avoid prosecution.
Commissions
Allocation: Separate from base pay (optional)
Commission payment models are common across sales industries. This model allocates a percentage of earnings to the individual, predetermined upon employment. For example, if your company sells a product for $600 and the sales representative earns a 10% commission, that salesperson earns $60 per sale. A commission-only plan is best for companies with shorter sales cycles paired with significant payment opportunities. Companies may also choose a tiered commission structure, or combining base pay with the commission.
Bonus payments: Individual and group
Allocation: Separate from base pay
Bonus payments can be considered their own category and are highly common and utilized across sectors. Bonus payments are considered variable pay (bonuses, incentives, commissions, or other cash compensation dependent upon performance) and can be applied to individuals and groups, with notice and without notice. These payments are often made a few times a year.
What are non-discretionary bonuses?
A non-discretionary bonus is an ad-hoc payment made to employees who demonstrate an outstanding performance, often without consideration of pre-defined goals or metrics.
Spot bonuses: Payments made "on the spot" for achievements and recognition
Project bonuses: Payments made to reward an employee for the completion of a project
Retention bonuses: Payments made typically to reward tenured employees to avoid costly turnovers and show appreciation to long-term employees
What are discretionary bonuses?
A discretionary bonus is a payment made to an employee, a team, or the entire company that is based upon pre-defined goals or metrics.
Company-wide bonuses: Payment encompasses a specific improvement goal for all employees, and metrics are set beforehand
Small group/team incentive bonuses: Like company-wide bonuses, this form of a pay incentive program is made to a small team or group (e.g., sales or marketing)
Individual incentive bonuses: These are determined around specific goals made between a manager and an individual and are typically reviewed on a quarterly basis
Group plans
Performance based plans aren't limited to just individuals. There are also group plans such as profit sharing and gainsharing.
Profit sharing
A profit sharing plan allows an employee to receive a percentage of a company's quarterly or annual profits to contribute for retirement. This is a payment some companies provide alongside a 401(k) plan. In profit sharing, the amount contributed is entirely up to the employer's discretion, and there are no amount matches. Any company can create a profit-sharing plan (even a non-profit!).
Gainsharing
Gainsharing is a payment model based off a pre-defined metric to achieve for a group of employees. If they complete the goal, they will receive a payout. Gainsharing is sometimes confused with profit sharing, however while profit sharing is entirely in the employer's hands, gainsharing is more focused on employee performance.
Employers: Considerations for implementing
It is proven that incentivized performance can support productivity in organizations. However, there are a few careful considerations managers and employers must consider both before, throughout, and after.
Here are a few considerations before implementing to better your chances for goal-based success:
Establish a pay philosophy

Does your organization want to be ahead of the market in salaries? Would your team rather put money toward benefits? These are the types of questions to ask to establish a Pay Philosophy

Set clear guidelines

Companies should clearly communicate and document the specifics of direct and indirect compensation policies. All questions should be documented and addressed regarding type and model. If documentation is not complete, companies expose themselves to potential litigation and general distrust

Focus on goals

Goal-setting theory in the workforce has been a topic of academic study for quite some time. According to "the goal-setting process is most likely to improve employee performance when goals are specific, moderately challenging, and accepted by employees"

Consistency is key

To assure consistency, it is important for managers to review any gaps between job titles and actual work, gaps in communication, and gaps in performance review systems. An internal audit of existing systems and databases is highly recommended before implementing a plan
💡TIP: As managers, remember to encourage collaboration, NOT competition. A challenge is well accepted by human behavior, but a cut-throat environment with imbalance in pay may lead to employee resentment and damage workplace morale.
Sample questions to ask internally:
What do you want an employee to achieve?
Are the goals realistic? Are they easily attainable, or very difficult?
Is this plan in line with your company values and goals?
Does the payment structure provide company valued ROI?
Employees: Considerations for accepting
For employees, it's important to remember that regardless of the structure, pay-for-performance is not guaranteed. The plans described above all carry the risk of no payouts if the performance threshold isn't met. It is advisable to set realistic expectations.