Technology that supports the entire compensation cycle
Payscale has diverse and dynamic data, scalable compensation technology, and experienced compensation services to get pay right.
Simply powerful compensation software
Payscale's intelligent software solutions are designed (and continually optimized) to solve the pay challenges of an evolving workforce.
Explore Payscale software
Payfactors
Offers business teams a full-suite, cloud-based compensation management solution customizable for any size of organization or kind of pay issue.
MarketPay
Helps global organizations adapt to the workforce of the future through an advanced platform delivering reliable market-data and measurably better functionality.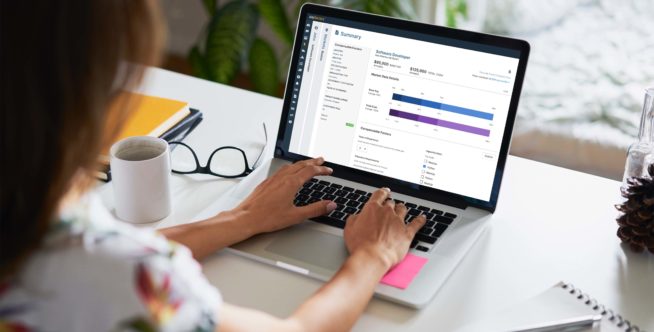 Current, continuously validated data
Uncover insights from market and company-sourced data.
Explore Payscale data
Services to enhance your advantage
Stay ready for change with implementation, enablement, and managed services delivered by Payscale's dedicated compensation experts.
Select from Payscale services
Payscale products are liberating Payscale customers
Payscale products are liberating Payscale customers
"The best thing about Payfactors is that the system is easy to use and understand. I had used Payfactors at a prior company and recently implemented the system at my new company. For those who had never used it before, it was an easy transition. We are now able to look at all of our survey data in one place. We've been able to find market data within survey's that we didn't know had data for specific positions we're looking for."

Jessica Melando, Compensation Analyst, Ross Stores
"Since using Payscale MarketPay, I feel like I went from owning a Prius to a Porsche. It's amazing how quick the system is - the power of what Payscale does for us is significant. The comp work we used to do in Excel would take us 2 to 3 weeks to prepare for one business unit, and now we get the same work done for all 12 business units in 2 weeks. The productivity is absolutely significant."

Charles Landry, Director of Global Compensation & Performance Management, Deltek
"With Payscale, we have a trusted source for salary data as well as the right tools and technology for where we're at in our journey – and where we're headed. Payscale's ability to grow and scale with us provides flexibility to go as fast as we want or as slow as we need depending on what our business activity is at the time."

Jimmy Griffin, Chief Human Resources Officer, Centauri Health Solutions
Celebrated, not just differentiated
Through innovative solutions and collaborative support, Payscale's next-gen compensation software is winning awards and converts, alike.
Ready to power-up your pay processes?
The proof is in the products. So we've made it easy to schedule a customized demo of our award-winning software, data, or services. There's no better way to experience the power of Payscale.